Cell phone privacy modification
Recently I read an article on CNET that came as quite a surprise to me. The gist of the article is that the FBI, with the cooperation of the telco, can and does remotely activate the microphone on cell phones. This is done by exploiting the firmware upgrade feature of the phones and can be done even if a phone is turned off. Although none of my conversations would likely be of great interest to the FBI, I am still not overly happy about this development. I figure that if people continue to turn a blind eye to such things it will eventually be more and more routine to see things like this, this, this, this, this, this, and this. So, partly out of protest and partly because I will take any excuse to pick up the soldering iron, I decided to take matters into my own hands.
Conventional telephones (landlines) can not be exploited in this way because when they are not in use the microphone is physically disconnected from the phone line by the hookswitch. This behavior was easy to replicate in my cell phone using a reed switch. Luckily there were a couple of extra solder pads on the PCB that were electrically connected to the microphone and a nearby expansion port (never used) that could be removed to make some extra space. The reed switch is connected in parallel with the microphone and shorts it out when a magnet is brought into proximity. The magnet is mounted on the opposite half of the clamshell in a hole drilled using a step bit. Normally the microphone should not be energized when the phone is not in use so shorting it out will not cause any drain on the battery.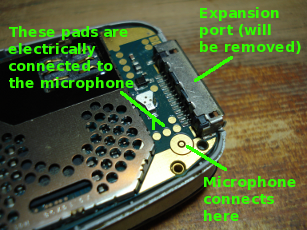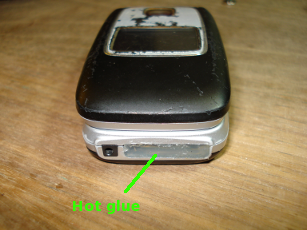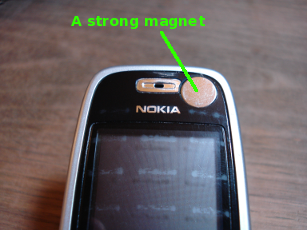 The CNET article mentions that security conscious corporate executives will often remove the batteries from their phones when not in use, presumably to avoid potential eavesdropping by an unscrupulous telco employee. Perhaps there would be a market for phones that physically disconnect the microphone when the phone is closed. If nothing else, such a phone would probably be a big seller on ThinkGeek.